Before installing your bundles, co-wash them with a sulfate-free, moisturizing conditioner (unless coloring immediately – see Coloring). Comb the hair gently with a wide tooth comb, starting from the ends and working your way up to the weft. Rinse your bundles thoroughly and squeeze out any excess water. If time permits, allow the hair to air-dry instead of using a blow dryer.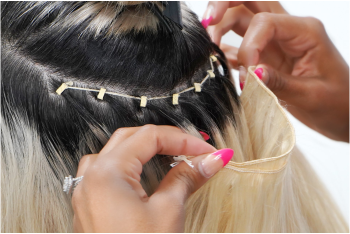 We strongly recommend that you have a consultation before any hair is installed and that a professional stylist installs your hair extensions, frontals, closures or wig.
As your own hair grows in, we recommend scheduling maintenance appointments with your stylist approximately every two weeks (depending on the application method) to avoid any excessive tangling or breakage of your own hair. If you are installing your extensions yourself, sew around the wefts, not through them, to avoid destroying the weft construction. This will prolong the life of your bundles!